Pupils from the Middle Room -1st, 2nd and 3rd had a wonderful day despite the weather.
We held our End of Year Service on Friday 22nd June to say Goodbye and Good Luck to 6th Class. Our theme was Lean on Me and pupils sang songs they had learned during the year in Assembly with Rev. Lesley. The Senior Room sang World in Union led by Rebecca. As they climb to reach their destiny we wish them every success in the years ahead.
Tuesday 19th June was a memorable and enjoyable evening for pupils, staff andparents. Peter Bane, Alan Tynan, Gail O'Meara, Wesley Hoffler and Colin Siu refereed tennis, soccer, tag rugby and a gymnastic circuit.
A sub committee of parents organised a barbecue which was enjoyed by all. They raised  raised funds for Down Syndrome Ireland by organising an ice-cream party. €452 was sent to Down Syndrome Ireland. Well done everyone!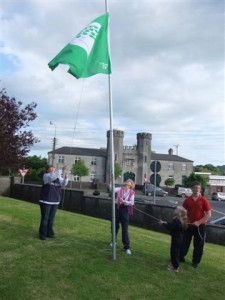 Last Night we raised our 4th Renewal  Green School Flag
but our 5th Flag for Biodiversity.
The school tours for the Infant and Middle Room will take place in June. The Junior Room will travel to Nenagh Arts Centre to see Little Red Riding Hood and the Middle Room will go to the UL Activity Day at the Monastery.