The pupils in 3rd, 4th, 5th and 6th  class are working on a wall hanging with artist Amanda Kenny to celebrate the BiCentenary of St. Cronan's Church on the 29th April. They are using fabric to record the ecclesiastical sites of Roscrea. This project is sponsored by the Craft Council of Ireland and Laois Education Centre.
The pupils of St. Cronan's National School performed  Roald Dahl's version of "The Three Little Pigs" , a musical based on his Revolting Rhyme, on Thursday 29th March @ 7.30pm in the Parochial Hall, Roscrea as part of their Lenten Project. The hall was almost full to capacity for an amazing performance by all. All funds raised go to the Dean Maxwell Home.
View more photographs taken by Gwen Wallace
The first chicken and  only one!
Love(named by Infants as they are all going to love it!)
hatched out on Sunday 25th March.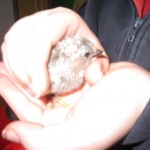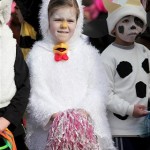 Congratulations
to all involved on winning the
Best Schools Category
and the
Overall Prize at The St Patrick's Day Parade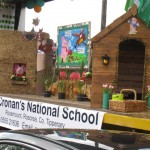 Entries were sent to Roscrea Library for this years Tidy Towns Poster Competition. The title was My Green School.
We were delighted for our 4 prize winners.Congratulations girls.
The 5th & 6th Class Project On Monastic Sites in Roscrea was presented in the Cooperation is Cool Competition in Laois Education Centre on Thursday 22nd March.
Deidre Cox visited us on Wednesday 21st March before we submitted our application for the 5th Green School Flag.
This flag looks at Biodiversity focusing on the variety of habitats in the school grounds and creating new habitats where possible. She was very impressed with all the hard work that has been going on. We are quietly optimistic.
As part of the North Tipperary Tree Week Activities pupils were invited to a talk given by Eanna Ni Lamhna in Templemore Park